what a day!

today was a very interesting day in nascar racing. kasey kahne got into a wreck that was caused by kyle busch bumping him. but as you can see in the above picture, kasey decided to retaliate the next time kyle came around the track by pulling up in front of him. this is a no-no in racing. you may be mad, but to do something this stupid when safety crews are out there and other cars are trying to pass by the wreck slowly and avoid debris on the track. kasey could have caused other racers to have problems. this is kasey's response after the race....
------------------------------
"I just drove up in front of him and stopped. He run into me, it didn't really hurt his car, but it was the wrong thing to do," said Kahne, who also was ordered to meet with NASCAR after the race. "You feel like you get crashed, you want retaliation, but that is not the way it works in NASCAR. Definitely the wrong thing to do."
from nascar.com 18 september 2005
------------------------------
good job, kasey!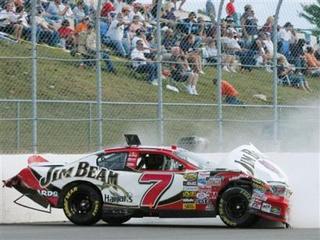 then on the main card we have robby gordon (long known as a hot head) and michael waltrip. from what i saw it looked like robby slid up into michael and he did not give robby much room, because he didn't have much more room himself. robby felt that it was mikey's fault and so after the wreck he did what kasey did earlier. as mikey came back around the track robby tried to back up into him a crash into him. and if that wasn't bad enough he almost caused tony stewart to wreck into him, because he missed mikey and tony was right behind him.

then after being unsuccessful with that, he got out of his car and the next time mikey passed by he threw his helmet at his car. which just goes to show really how much of a baby he really is. and again if that wasn't bad enough he almost caused tony stewart to get damage on his car, because his helmet was left on the track as tony was passing by. i really hope that nascar sit this idiot for the next race and fines him at least the entire race winnings he had for this race.


but what amazed me about this whole thing was after the crash as tnt was interviewing robby he said that michael was a "piece of shit" and the tv announcers apologized for that word being used. then as i was watching the green bay-cleveland game i overheard someone on the sidelines or in the crowd say very distinctly something along the lines of "let them play the f-ing game" and the announcers said nothing about it. no apology or anything. that is the difference between nascar and the rest of the sporting world. but what was even cooler was this quote on nascar's website....
------------------------------
Gordon got out his car and hurled his helmet at Waltrip's car, then proceeded to call Waltrip a profane word in an ensuing TV interview.
from nascar.com 18 september 2005
------------------------------
they said that he used a profane word, not a curse word or swear word. wow! they find it profane. such a difference. here is what dictionary.com says is the definition of the word profane: Marked by contempt or irreverence for what is sacred or vulgar; coarse. nascar, i am impressed! not only do you have prayer before races that the networks are supposed to show, but you also have high standards for your drivers. this fan thanks you!



now just in case you were wondering if the universe was going to come to an end because the lions played so well last week, they once again played like the lions i have grown to love. was i surprised not really. the lions have and will always suck. my daughter said, "but daddy i thought they always win?" and i said, "no, they usually lose and will always lose." it is a sad reality, but for a lions fan, it is a reality! at least we get to host the super bowl. before you start going off that it was only one loss, just remember that i have been watching them my whole life and this is a normal thing and they showed their true colors.

but at least the wolverine's won yesterday!

Labels: Sports